I LOVE books. I especially LOVE picture books. Lindsey at
The Teacher Wife
has a linky party related just to your MUST have picture books and since I love books sooo much I just had to add my two cents.
Most of my favorites are right in the shelfari widget right next to my blog but I like a bunch more that I have not had the time to put up there right now.
Number 1:
The Dot
- I love the uplifting message this book gives about believing in your own power to create and have something worth looking at. I think this book allows children to see themselves as powerful. All just because of a little dot.
Number 2: It's a Book - With all the iPads and Nooks and Kindles and PS3s children have the uncanny ability to escape reading actual books and I love how this pokes fun at that fact while also creating the idea that books are interesting and more exciting than any handheld electronic device (though I am also guilty of loving some of these devices abotu as much as the kids ;).
Number 3: You're Finally Here! - This book is such a great beginning to the day or the school year and makes kids as excited to be there as you are. Fell in love with it when I first read it.
Number 4: Don't Let the Pigeon Drive the Bus - I have read this book so many times that I have it memorized but no matter how many times I read it I still love it. My kiddos this year loved it so much that for some it was the only book they learned to read that year. It's also great for persuasive writing or teaching arguments.

Number 5: Elemenopee - This maybe the most appropriate book on this list for kindergarten since it focuses on the alphabet. It is my favorite alphabet book and it is a pop-up book! It teaches my little ones the importance of not rushing through the alphabet and skipping over L, M, N, O and P. Love the illustrations and of course the pop-ups!!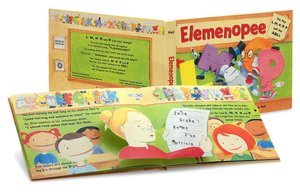 I could continue to add books but then I would never get started with any of my projects for the day. I <3 Books!